Player of the Day: C.C. Sabathia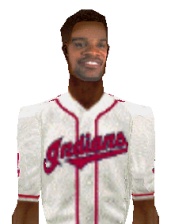 Barely twenty-one years old, he is making a serious bid for rookie of the year. Sorry that I couldn't make a taller mesh for him: he's 6-7'!
DOWNLOAD C.C. Sabathia!
---
Using This Site:
To access all of the available
faces and uniforms, use the
menu bar at the top.
---
Site Index:
Player Skins| Mascot Skins
| The Sims Team Shop
Player Search | Links | Requests
Email | Sign My Guestbook
---
Vote for this site:
---
Visit My Personal Site!




Add my link to your Sims site!
---
Some other great Sims Sites:
8-27-01
What's New?- I have had many request for Team Shop items, that I have been putting off for no good reason. So, today I made a men's jersey/jeans outfit for each of the teams I have made a uniform for so far. Since it would take forever to load if I put an image of them all on this page, I'll include a text link for each team (and you can trust me that they look pretty good).
Only Light Skin Tone available so far- more coming soon.
Angels | Astros | Brewers | Cardinals | White Sox
Cubs | Diamondbacks | Dodgers | Giants | Indians
Mariners | Mets | A's | Orioles | Reds
Redsox | Royals | Rangers | Tigers | Rockies
Twins | Yankees (Home) | Yankees (Away)
---
8-25-01
Today's Update: MANAGERS!
What's New?- Do you need someone to keep your Sims Major Leaguers under control? No clubhouse is complete without a manager! So, check out our first installment of manager skins (unfortunately, Grover is still in his Orioles jersey). Click the image to download your new manager!
(Manager Skins include FACE only: Uniforms are available in the Players Skins section.)
---
8-24-01
What's New?- A new feature was added to my site today, a "Ten Most Recent Additions" page. This page will have my ten most recent skins posted, ones that have recently appeared on this main page. This makes it easier to browse my newer stuff, and prevents this page from getting too large! So check it out today!
---
8-22-01
What's New?- No real update to give you today, just a couple things. FIRST: To clarify something, YES there are more players than just the ones that appear on the start page. These are just recent additions!
Second: Many people have suggested that they would like skins of Hall of Fame baseball players. Others have been asking for other sports- football, basketball, even soccer. Now, please take my poll, and I'll really take to heart your suggestions:
---
Find older news and updates here.